If you're new here, you may want to subscribe to my RSS feed. Thanks for visiting!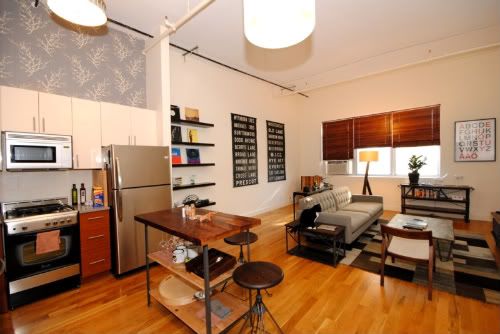 Yes…..this is my home, where I live, usually, from time to time…..Jkidding.  Recently my roommate moved out of this 1 bedroom, converted to 2 bedroom loft, and back to 1 bedroom…located on Driggs Avenue off of the Bedford L Train.  I decided that converted spaces are hardly ideal, as they tend to reduce the amount of privacy one might hope to have in their home, so I knocked down the wall and converted it back into a large loft space.  The process was not enjoyable, as every item in my home was covered in a layer of drywall dust, and my cat was freaking out.  With a large empty home, I was finally able to enjoy playing interior designer and spent weeks doing research, hoping to create an attractive, cohesive environment to reside in for the next few years.   Now I know that interior design is a serious career, as it consumed as many hours as it did dollars… ouch… but I can't complain.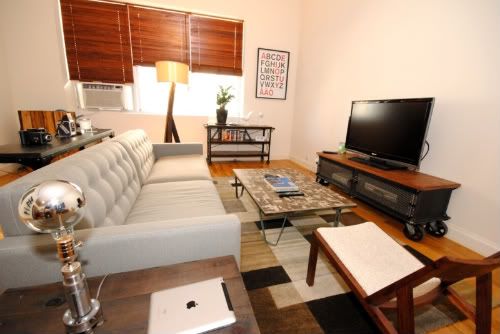 Here is a run down of items I purchased that can be seen in the photos above, and below:  The quality gray buttoned couch was purchased at Room & Board.  I highly recommend Room & Board couches, as they are built well, look attractive, and are comfortable.  The rug was a quick buy at Crate & Barrel, on sale, and one of my last purchases.  The coffee table, vintage shelving below the window, tall wooden lamp, and wallpaper, are from A&G Merch, located on North 6th Street between Berry and Wythe Avenue.  DO NOT PUT UP YOUR OWN WALLPAPER.  My most coveted items…the antique console and kitchen island, were custom built by 2 designers that I found on Etsy.com, and are highly recommended:  VintageIndustrialFurniture and  BlakeAvenue.com.  They rock!  The vintage UK buss rolls, hanging on the walls, were also an Etsy find.  I will most likely frame both, eventually.  Lastly, the silver top lamp is from The Future Perfect, next to A&G Merch….Antique cameras from the Brooklyn Flea Market on the East River….Wooden Blinds & floating wall shelving from Ikea (had to save money on something), and couch side table from overly expensive Strawser & Smith Inc (stay away unless if your pocket is filled with lots of green paper).  There are more unseen item that I won't get into.  Happy hunting!